House Concerts
Part of my vision for classical music is to bring it back to its true "chamber" music roots. By this I mean hold performances in intimate spaces like a home. I have been experimenting with this idea for the past year or so and have already had many wonderful experiences.
Unlike huge concert halls, these smaller venues allow the audience to really get up close and personal with the artist. What is lacking in acoustical engineering of a space is more than made up by sheer proximity. With guitar, this is especially true. Though guitars have come a long way in design, they are still relatively quiet instruments!
The other great thing about this is it makes great music more of a normal occurence for our society because it's comparabl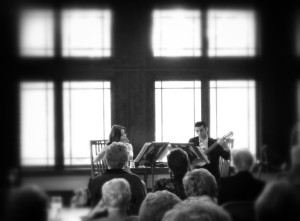 e to just going to a friend's house. Also, this is an opportunity for communities that don't have classical music venues but do have classical music lovers to come together under one roof.
The informal nature of these has been a really fresh change from sometimes stuffy concerts, and it has allowed a healthy exchange of ideas and the birth of new friendships. With the usual addition of appetizers and libations, it doesn't get much better than this for me!
---
Impromptu "Let It Snow" Sing-a-long at December House Concert:
---
Tomorrow, I'll be doing something a little different. Host Benjamin Murphy will present some of his wonderful abstract art in addition to the concert for a truly multi-sensual experience.
If you are interested in hosting a house concert in the future, please send me an email at cimoguitar@gmail.com to discuss further!
Jack